Une renommée internationale.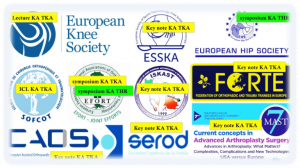 Ces dernières années furent charnières pour notre groupe. Les techniques d'implantations prothétiques physiologiques attirent l'attention des chirurgiens, chercheurs, et industriels.
Le Centre de La Prothèse Hanche et Genou fut largement représenté dans les prestigieuses conférences internationales :
American Academy of Orthopaedic Surgeons (AAOS)
European Knee society (EKS) • European Hip Society (EHS)
European Society for Sports Traumatology Knee Surgery and Arthroscopy (ESSKA)
European Federation of National Associations of Orthopaedics and Traumatology (EFORT)
Congrés nationaux Français (SOFCOT), espagnol (SEROD), Italien (SIAGASCOT), Iranien (ISKAST) • Etc.